The greatness of a winemaker is measured by their ability and dedication, not to mention phenomenal wines and Jim Chatto has those in spades.
Jim Chatto on the cover of Gourmet Traveller magazine when he was announced 2019 Winemaker of the Year.
Respected throughout the Australian wine industry for his meticulous approach to winemaking, Jim Chatto is the more-than-deserving 2019 Gourmet Traveller WINE Winemaker of the Year.
Not only does he produce fine pinot noir under his own label Chatto, but he is also the Group Chief Winemaker for McWilliam's Wines, as well as a long-serving and esteemed wine show judge.
His 26-year career in the wine industry has seen him work in many different regions, making wines diverse in style and price.

Jim Chatto testing wine in barrels.
Chatto's winemaking talents and astute palate were apparent early in his career. Though I suspect that his admirable personal traits, in combination with his skill and passion, are what first captured people's attention.
Hard-working, good-natured and confident, Chatto is regarded for his knowledge, insight and leadership skills, not to mention his tasting expertise.
Chatto's winemaking career began at Tamburlaine, then First Creek in the Hunter Valley before he headed to Tasmania to work at Rosevears Estate Vineyard in the Tamar Valley. He then returned to First Creek and later moved to Pepper Tree Wines. Chatto took up the position of Chief Winemaker with McWilliam's in 2013, and in 2017 he had the somewhat formidable, though highly impressive role of Chief Winemaker for McWilliam's and Kreglinger Estate simultaneously. Chatto took on the Group Winemaker role with McWilliam's in 2018.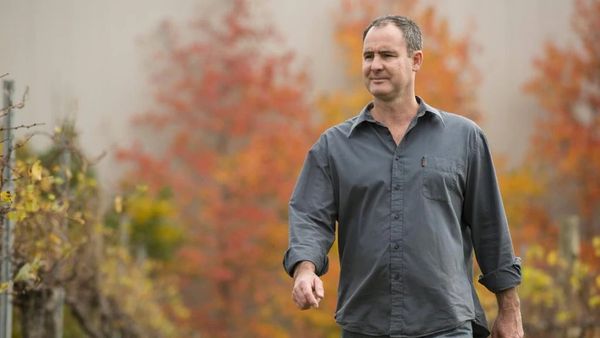 Jim Chatto walking by his vineyard.
Show judging has been a significant element of Chatto's career. He rose swiftly through the ranks and has served as the Chair of Judges at the Hunter Valley, McLaren Vale and National Wine shows, and is the current Chief Judge at the Royal Brisbane Wine Show.

One of Chatto's strengths is he knows how to stand back and let the vineyard speak.
But it is for his winemaking abilities that he is most admired. You need honest winemaking to showcase the essence of a vineyard. If a winemaker oversteps the mark and puts too much of themselves into a wine, the clarity of the vineyard signature becomes blurred. One of Chatto's strengths is he knows how to let the vineyard speak.
His experience working with historic Mount Pleasant vineyards such as Lovedale, Rosehill, Old Paddock and Old Hill would have left an indelible imprint on his winemaking psyche.
Despite Chatto's long relationship with the Hunter Valley, his love for Tasmanian pinot began when he worked with Rosevears in the late 1990s, and during a judging stint at the 1999 Tasmanian Wine Show. So, it is no surprise that Chatto, and his Tasmanian wife Daisy, bought land of their own in the beautiful Huon Valley. It's a magical spot, not far from the river, framed by neighbouring farms and the raw Australian bush. Multi-clonal pinot noir plantings began on their land at Glaziers Bay in 2007, and the first release from this vineyard was in 2013 with the 2012 vintage.
Pinot noir is a variety highly reflective of place, but it needs a perceptive winemaker to nurture it from harvest to bottle. Chatto is one such winemaker; his pinots are fine and composed with fragrance, elegance and purity.
From the 2018 vintage they produced three wines: Chatto Isle Vineyard which is made from the best parcels of estate-grown pinot; Chatto Huon Valley Pinot Noir, which is a mix of estate-grown and local Huon Valley fruit; and the Seven Inch Pinot Noir, the inaugural release, which is sourced from a single vineyard located a kilometre from the estate.
Chatto is a benchmark label that adds gravitas to Australia's pinot noir landscape. The brand's catch-phrase of 'Making serious pinot fun' is highly revealing of the character of the people behind the label: down to earth, affable; refined, but highly personable and approachable.
Jim and Daisy Chatto are genuine small producers, making authentic wines in a new vineyard area while raising a family and juggling multiple work commitments. Though the depth of knowledge and experience behind the wines are phenomenal.
It is a label to watch closely and hunt down; one to add to your cellar, but the wines are scarce as demand is high.
Wines from a tiny vineyard, which will only get harder to find with time.
Author: Toni Paterson MW

Source: Gourmet Traveller Wine