Skillogalee Sparkling Wine
Skillogalee is one of the Tourism Champions in South Australia as rated by the South Australian Tourism Commission. (Source: Youtube)
BACKGROUND
Skillogalee is a boutique family-owned and operated winery located in the heart of the picturesque Clare Valley in South Australia. Skillogalee was established in 1970 with the first wines released in 1976. The 1978 dry riesling won major trophies at the Adelaide Wine Show and the National Wine Show, putting Skillogalee firmly on the Australian winemaking map!
VINEYARDS
The vineyards were planted at almost 500 metres above sea level, one of the highest vineyards in South Australia. The rows are planted on the contour in shallow stony soils mainly on steep eastern facing slopes.

One of Skillogalee's vineyards. (Photo: Skillogalee.com.au)
The vines are hand-pruned and the fruit is mainly hand-picked. Yields are extremely low but the vineyard produces intense flavours and aromas and deep, richly-coloured reds. Kangaroos are our major pests - significant numbers can be found around vintage time, when the hills are dry and brown, camping in the vineyards and feasting on the ripe fruit!
WINE STYLES & WINEMAKING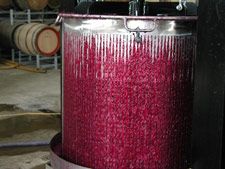 Inside Skillogalee winery. (Photo: Skillogalee.com.au)
Skillogalee has a small modern winery crushing only around 250 tonnes, giving us the opportunity to hand-make individual wines in small batches. Fruit handling and vinification are undertaken using the best of traditional and modern technologies - modern winemaking techniques for whites, to preserve the fruit aromas and flavours, and more traditional techniques for reds - the use of open fermenters and basket pressing to maximise flavour and colour without over-extraction. We focus heavily on gentle fruit handling throughout and our winery hygiene programs are meticulous. In this way, we use the minimum amount of sulphur to keep wines safe from spoilage.
With the same quality issues in mind, we have moved to the use of "stelvin" screw caps on all our table wines to maximise quality and longevity for the consumer.
---