"Best Shiraz In The World" Kilikanoon Oracle Shiraz 2014
SKU: ORACLE
Only a few left in HCMC
Winner of the 2018 Shiraz Trophy - International Wine & Spirit Competition (IWSC), UK

BUY 1 BOTTLE - GET 1 FREE CYLINDER GIFT BOX.

Price: VND 2.480.000 per bottle

Volume: 750ml
Origin: Clare Valley, South Australia, Australia
Brand: Kilikanoon

Grapes: Shiraz
Vintage: 2014
Alc %: 14.5%
Closure: Screwcap
Storage: Keep dry and cool, avoid direct sunlight
Manufacturer: Kilikanoon Wines PTY., Ltd.
Address: Penna Lane, Penwortham South Australia 5453, Australia
Importer: Viet Nang Pty., Ltd.
Instruction: Drink directly without thermal usage. May take together with red meat, smoked salmon, cheese or snacks.
Certificate No: 11779/2017/ATTP-TNCB

---
With the exception of the 2011 vintage, each year since 1997 we have released the iconic Oracle Shiraz. Crafted from old vine fruit grown along the Golden Hillside in Leasingham, it continues to display the opulence, regional character and varietal power the valley is so renown for.
TASTING NOTE
PLACE
Clare Valley.
Crafted from old vine fruit grown along the golden hillside in Leasingham, it continues to display the opulence, regional character and varietal power the valley is so renown for.
VITICULTURE
A standout vintage, 2012 has been compared very closely with the famous 2002 vintage, with the
ripening and harvest conditions consisting of warm days, cool nights with minimal rainfall and
no disease pressure what so ever; perfect ingredients in the production of long lived, flavoursome Shiraz wines.
WINEMAKING

2014 was a cooler and more protracted vintage in the Clare Valley, allowing the Shiraz blocks along the west face of the Golden Hillside to ripen more slowly, bringing all parcels to their very optimum levels of maturity.
Low yielding Shiraz parcels were chosen across our Golden Hillside vineyards, vinfied separately using time honoured traditional techniques, then aged for 18 months in a selection of new and one year old French oak hogsheads. Bottling occurred without any fining or filtration.

SENSORY
Colour: Brick red in colour with youthful crimson hues.
Aroma: Richly hedonistic, the nose jumps out of the glass, vigorously capturing the alluring aromas of dark chocolate, coal tar, exotic spices and complimentary French oak char.
Palate: A wine of tremendous concentration, complexity and understated elegance, the palate brims with riper plums fruits, dark chocolate and tar nicely paired with classy French oak and polished tannins that carry over in the mouth well after the wine has been consumed. A wine made for the ages.

CELLARING
Potential of at least 12 - 15 years with careful cellaring.

SHIRAZ TROPHY (FOR THE BEST SHIRAZ WINE IN THE WORLD)
Awarded to Kilikanoon's 2014 Oracle Shiraz
at the International Wine & Spirit Competition 2018.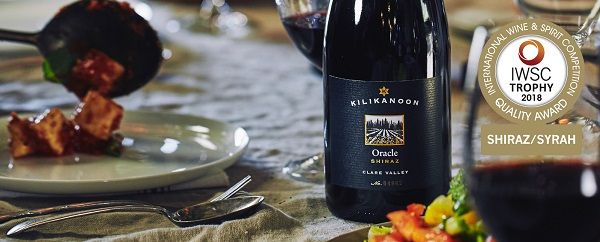 (Image: Kilikanoon.com.au)
GOLD MEDAL (2014 VINTAGE) - MUNDUS VINI GRAND INTERNATIONAL WINE AWARDS 2017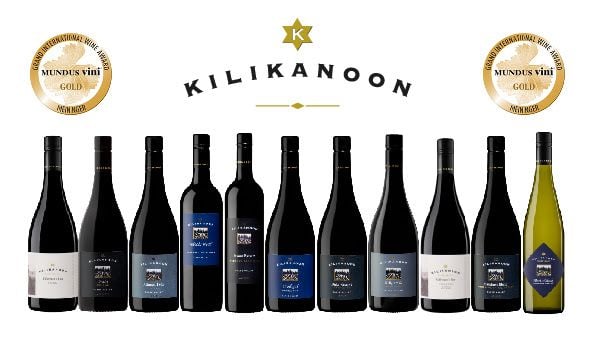 (Image: Kilikanoon.com.au)

Kilikanoon is proud to announce our overwhelming success at the Mundus Vini Grand International Wine Awards by taking home 11 Gold Medals, and the coveted status of Australian Winery of the Year for the third time in 8 years (also won in 2010 and 2017).

The jury was made up of well respected and reputable personalities from around the world including excellent sommeliers, recognized specialty retailers with above-average knowledge of wine, specialist journalists and scientists.

Gold medals are only awarded to the best rated wines within a group, which means Kilikanoon consistently impressed the tasting panels with masterfully composed cuvees. Being awarded Australian Winery of the Year once again highlights Kilikanoon's dedication and uncompromising commitment to quality and style that has made the brand so successful.

A full list of our Gold Medal winning wines is below:

Shiraz
Cabernet Sauvignon
⍟ 2015 Blocks Road Cabernet Sauvignon
⍟ 2013 Tregea Reserve Cabernet Sauvignon
Grenache
⍟ 2014 Prodigal Grenache
⍟ 2013 Duke Reserve Grenache
⍟ 2013 Kelly Grenache
Grenache Shiraz Mataro
Riesling
⍟ 2016 Mort's Block Watervale Riesling
REVIEWS
James Halliday Wine Companion 2019, AU
93 Points

Open fermentation with hand pumpovers for 8-9 days. Basket pressed to 50% new French hogsheads for 20 months. Slightly unexpected aromas greet you here, with blackcurrant and truffle more immediately obvious than the typically ripe regional fruit characters which sit behind. Dense rather than brawny on the palate, with a juicy quality and a fresh, tangy feel about the tannin. Oak seems to kick in on the finish. Will be interesting to follow its development.
Decanter World Wine Awards 2018, UK
Platinum Medal
97 Points

Rich, ripe, intense cherry stone, sweet spices, light toast, dry blueberry and meaty hints, lots of very impressive forward dark fruit on the palate with hints of mocha, very fine tannin and wonderful palate length.