Islay Mist 10 Year Old Blended Scotch Whisky 700ml 40%
Price: VND 1.330.000
Net Volume: 700ml
Alcohol %: 40%
Brand: Islay Mist
Origin: Scotland
Year of First Production: 1922
---
Description:
Islay Mist was created on Islay in the 1920s using whisky from the Laphroaig distillery as well as choice Speyside distilleries. Initially blended for the 21st birthday celebration of the son and heir of the then Lord Sargadale, this gold-medal-winning whisky still carries the seal of the Lord of the Isles.
Tasting Note:
Islay Mist 10 year old is a mature blend of Islay malt and mainland whiskies giving complex spice, gentle peat, and tobacco-like notes balanced with dried fruits and nutty undertones. A luscious sipping dram.
Storage: Keep dry and cool. Avoid direct sunlight.
Manufacturer: Macduff International
Address: # 6, Newton Place, Glasgow, G3 7PR, Scotland
Importer & Distributor: Viet Nang Pte., Ltd.
Address: # 46 Tang Bat Ho St – Pham Dinh Ho Ward - Hai Ba Trung District – Hanoi – Vietnam
Instruction: To be taken directly
EXP: Unregulated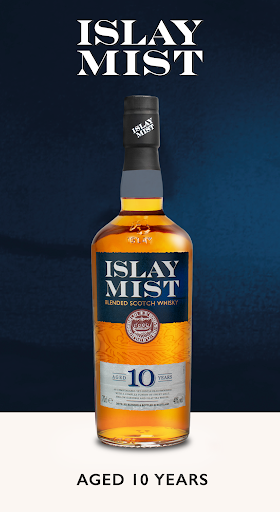 AWARDS & ACHIEVEMENTS
Awards that Islay Mist 10 Year Old Blended Scotch Whisky won in 2018.
(Image: MacDuff International)
Gold Award - International Spirits Challenge 2020