Pertaringa Scarecrow Sauvignon Blanc 2019/2020
Price: VND 645.000 / 750ml bottle
Varietal: Sauvignon Blanc
Alcohol By Volume (ABV): 13%
Origin: McLaren Vale and Adelaide Hills, South Australia, Australia
---
Story: Each vintage, the Sauvignon Blanc grapes are the first grapes to ripen in the vineyard. The scarecrow is still used as an effective deterrent to the local grape-loving birds and has also lent its name to our famous Sauvignon Blanc.
Vintage: The 2019 growing season started with mild weather and below average rainfall. Some late spring rain provided a bit of relief from the dry conditions and contributed to lower crops due to the wet weather and windy conditions interfering with fruit set during flowering. A heatwave in January was luckily too early in the ripening cycle to cause any damage to the fruit. This was followed by a very mild and dry finish to the vintage, allowing good hang time and flavour development to the smaller than average crop.
Nose: The nose offers subtle and elegant aromas of passionfruit and snow peas.
Palate: The palate is smooth but lively with delightful tropical fruit flavours, followed by a crisp and refreshing finish.
Food Pairings: A great summer wine, equally at home on its own, at a picnic or with seafood dishes.
Cellaring: Drink now
Winemaker: Shane Harris
Alc: 13%
pH: 3.11

TA: 6.28g/L
RS: 2.6g/L
AWARD
92 points - Wine Orbit 2019
WINERY'S AWARDS:
Wines by Geoff Hardy was awarded "Australian Wine Company of the Year" by Winestate Magazine in 2012, 2014 and became a finalist in the Top 5 of 2016. (Photo: Wines by Geoff Hardy)
ABOUT WINES BY GEOFF HARDY
Introduction for Wines by Geoff Hardy. (Video: Youtube)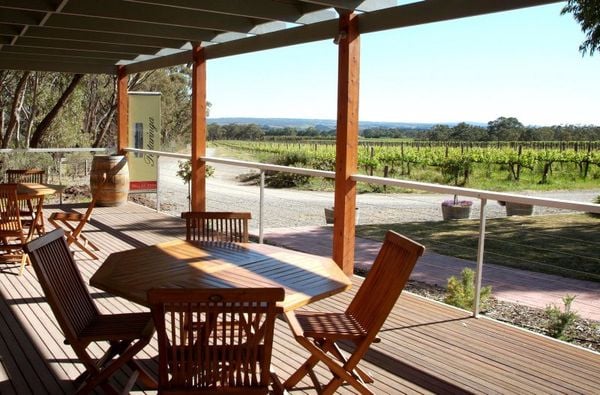 Pertaringa's vineyard. (Photo: winesbygeoffhardy.com.au)