The Lane Vineyard Beginning Chardonnay 2018
SKU: TL3
Top 100 Best Australian Wines as voted by Matthew Jukes, 2019.
Price: VND 880.000 / bottle
Number of bottles / case: 12
Brand: The Lane Vineyard
Collection: Occasion
Liquor Style: White wine
Grapes: Chardonnay
Size: 750mL
Current Vintage: 2018
Alcohol Volume: 13%
Country: Australia
Vineyard Region: Adelaide Hills
Closure: Screwcap
---
About the Lane Vineyard's Occasion Wines: The Lane Vineyard Occasion wines were first created in 1996. From the highest quality parcels of fruit within our vineyard these wines are determined by their vine age, purity, depth and spectrum of flavours.
Low yields provide fruit concentration and structure. Each variety is hand picked, handled gently in the winery & aged in the finest quality French Oak. Occasion wines, they are complex, structured and fine.

Vinification and Maturation: Closely planted (4166 vines/ha) to highly desirable Dijon clones which show a wider array of flavours at lower alcohol. The handpicked fruit is fermented in new and seasoned French oak and left to do its own thing.
This is the delicious style of Chardonnay that we love to drink. Refined, racy and delicately textured with The Lane DNA minerality.

2018 VINTAGE
Cool temperatures and below average rainfall throughout spring resulted in even flowering and a healthy fruit set, with some varieties requiring crop thinning. A warm to mild summer with few heat spikes provided ideal ripening conditions and minimal disease pressure. A warm period in April helped late varieties ripen fully, and ensured an outstanding vintage.
TASTING NOTES
Colour: Polished platinum gold with a green hue.
Aroma: Orange blossom, creme brulee, toasted granola with a hint of gun flint.
Palate: Refined, white peach, lemon curd fig, creamy cashew hints, nutmeg, textural and mineral finish.
Total acidity: 5.22 grams/litre
pH: 3.30

Soil: Ancient soils, mostly gravel with limestone / calcium
silicates and ferrous pebbles spread throughout.
ACHIEVEMENT
Top 100 Best Australian Wines as voted by Matthew Jukes, 2019.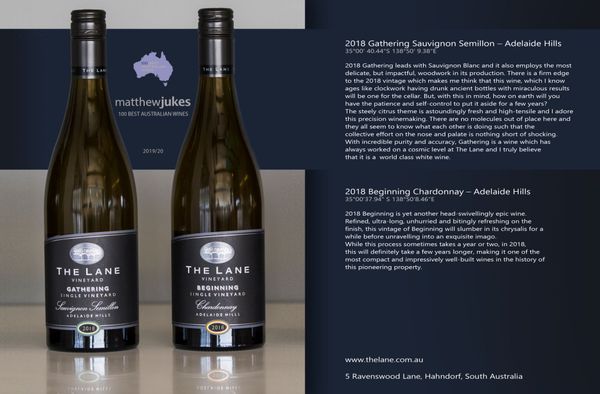 The Lane Vineyard has been rated by the South Australian Tourism Commission as one of the Tourism Champions in South Australia. (Video: Youtube)