The Lane Vineyard Block 14 Basket Press Shiraz 2015/2018
Price: VND 930.000 / 750ml bottle
Varietal: Shiraz
Alcohol By Volume (ABV): 13.5%
Origin: Adelaide Hills, South Australia, Australia
---
TASTING NOTES
Colour: Dense crimson, vibrant purple hue.
Aroma: Intensely perfumed, ripe brambly fruit with blueberry, boysenberry, sweet spice with mocha overtones.
Palate: Opulent and intense blackberry, blueberry and blood plum fruit, vanillin oak, graphite, subtle white pepper and a complex core of ripe tannins.
Total acidity: 5.59 grams/litre
pH: 3.59
Soil: Ancient soils; Ironstone over deep red clay subsoil.
About The Lane Vineyard's Block series: The Lane Vineyard Block Series show true varietal character and the influence of the terroir of The Lane Vineyard.
Block numbers indicate the patch within the vineyard where the fruit is grown, as do the "Google Earth" coordinates on each label. Minimum intervention winemaking allows the vineyard to do the talking.
The Block Series are stylish, fresh, fruit driven wines with a true sense of place.
Vinification and Maturation: Fruit from our highest, most exposed site on the vineyard.
These vines are working incredibly hard throughout the growing season, their roots reaching deep into the ancient soils searching for scarce water resources through the limestone pores.
As a result this wine has unsurpassed lifted aromatics, always displaying blue flowers, heralding bright red and blue fruits on the palate. Not surprising it has a trophy winning heritage!
THE 2018 VINTAGE
Cool temperatures and below average rainfall throughout spring resulted in even flowering and a healthy fruit set, with some varieties requiring crop thinning. A warm to mild summer with few heat spikes provided ideal ripening conditions and minimal disease pressure. A warm period in April helped late varieties ripen fully, and ensured an outstanding vintage.
AWARDS & ACCOLADES (2015 Vintage)
95/100 points by James Halliday
GOLD MEDAL AT THE 6 NATIONS WINE CHALLENGE 2017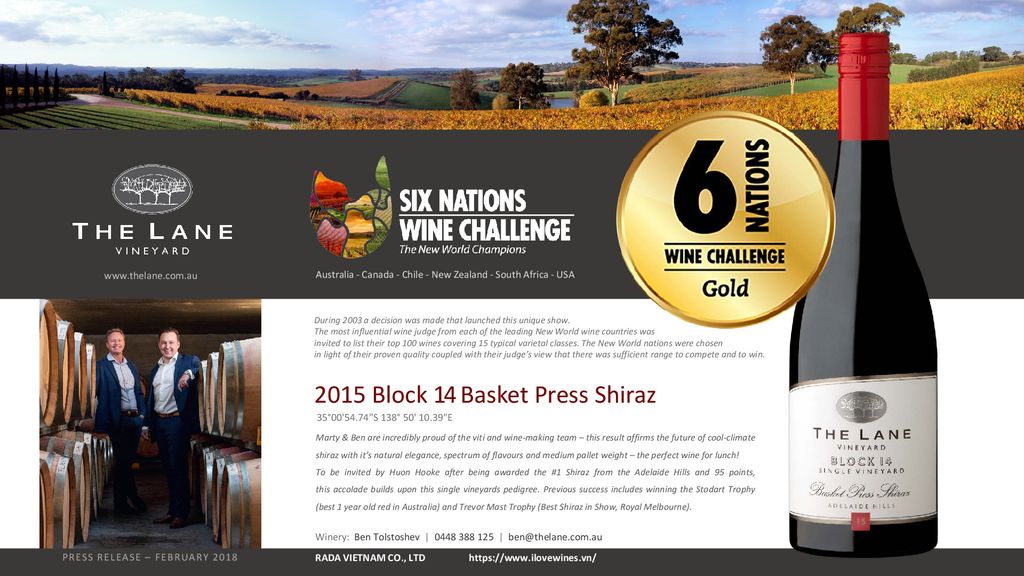 The Lane Vineyard has been rated by the South Australian Tourism Commission as one of the Tourism Champions in South Australia. (Video: Youtube)