The Lane Vineyard Block 5 Shiraz 2017
SKU: BLK5
Regular price 468,750₫ Sale price 625,000₫
156,250₫
---
The Lane Vineyard Block Series show true varietal character and the influence of the terroir of The Lane Vineyard. Block numbers indicate the patch within the vineyard where the fruit is grown, as do the "Google Earth" coordinates on each label. Minimum intervention winemaking allows the vineyard to do the talking.
Stylish, fresh, fruit driven wines with a true sense of place.
Winemaker
Michael Schreurs
Vintage
Early and compact season, ideal balance between ripeness and acidity.
TASTING NOTES
Colour
Dark ruby, purple hues.
Aroma
Lifted violets, forest fruits, cloves and fennel.
Palate
Dense brambly fruit, charcuterie, savoury spice, fine tannins and a delicate acid poise.


TOTAL ACIDITY: 6.00 grams/litre
pH: 3.62
ALTITUDE: 450m above sea level
CLONE: 1127, 2626
ASPECT: North facing
SOIL: Ancient soils, mostly gravel with limestone / calcium silicates and ferrous pebbles spread throughout
ACHIEVEMENT
Vintage 2016 was one of 2017 James Halliday's Top 100.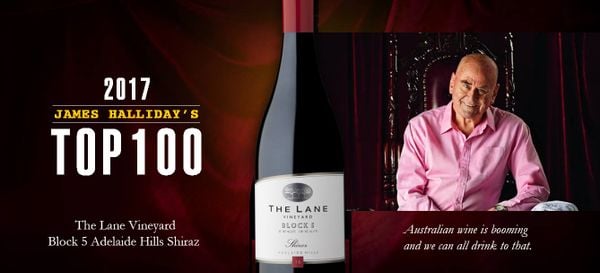 The Lane Vineyard has been rated by the South Australian Tourism Commission as one of the Tourism Champions in South Australia. (Video: Youtube)