Yering Station Little Yering Shiraz 2016
SKU: LYSR
Price: VND 595,000 per bottle

Origin: Yarra Valley, Victoria, Australia
Brand: Yering Station
Wine Collection: Little Yering
Wine type: Red wine
Varietal: Shiraz

Manufacturer: The Yering Station Winery
Address: 38 Melba Hwy Yarra Glen 3775, Victoria, Australia
---
TASTING NOTES

COLOUR Dense purple/red.
NOSE Raspberry and mulberry fruit stand out over toast and coffee oak flavours.
PALATE A central acid structure supports a juicy fresh forward mouthfeel, while dusty tannins fill out the mid palate.
CELLAR Now - 2023
WINEMAKING
VARIETAL COMPOSITION 97% Shiraz 3% Viognier
ALCOHOL 14.3%
FERMENTATION METHOD Rotery fermenter and open top fermenter
FERMENTATION TIME 10 days
BARREL ORIGIN French
AGE OF BARREL No new. 2-5 years old
TIME IN BARREL 12 Months
YEAST TYPE Rhone
SKIN CONTACT TIME 14 days
MLF 100%
PH 3.62
VITICULTURE
REGION Yarra Valley
DATE OF HARVEST Mid-late March
VINE AGE 25 years average
YIELD 3.2 tonnes/acre
METHOD Hand and selective harverster
CLONE PT 23, BVRC, Bests
SOIL TYPE Loam over mudstone clays
CULTIVATION PRACTICES Vertical Shoot Positioning (VSP)
PROFESSIONAL REVIEW
- 92/100 Points as rated by Ray Jordan - The West Australian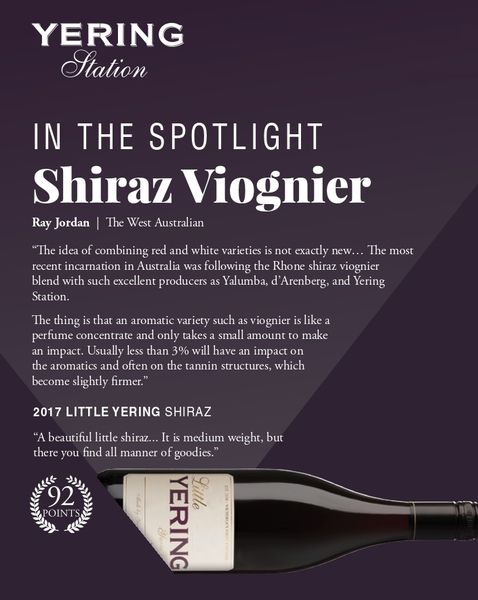 - Review by Christina Pickard (April 2020): "From one of the Yarra's longstanding producers ... Savory tannins and forest-berry fruit add personality and charm".