Did Anyone Mention Challenging Times?
We threw ourselves into 2020 with the gusto of a perfectly charred lamb chop.  This was going to be the year, we told ourselves. Expanded markets, new wines, new friends made, with old ones warmed to the heart by our endless dinners and tastings. Here we would reinvent ourselves. Carefully and cleverly weaving stories of daring experimentation and nail-biting determination to craft the very best vinous delights that we could. Our bags were packed, our passport dusted off, and wines flung to the far reaches of the globe. We were on our way. Or so we thought.
The wine industry, at least domestically, has fared the  2020 storms in a reasonable fashion. Like white goods and electricals, it seems that consumers embraced us, making the most of the "essential service" status we were afforded. Internationally things became more complicated, as much of the on-trade closed down, and other markets shut completely. It is our inventiveness and resilience that have assured our survival in this challenging landscape.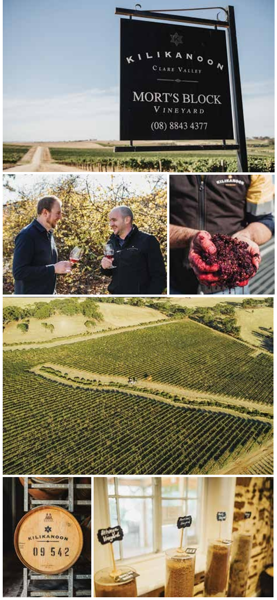 Okay, so 2020 didn't play out the way that we had envisaged. That doesn't mean that it was a disaster.  Just different. Here at Kilikanoon, we
learned to adjust,  engage, and appreciate our friends and customers from afar (ah, the Zoom backgrounds discovered along the way) while carefully building and protecting our enviable reputation for making high-quality wine. Markets evolved, some expanding, others contracting, yet the constant for us remained to build the brand for the longer term, working with partners that believed in the same. This has paid dividends.
2021 is promising much in rewarding our clarity and determination. The 2021 harvest will, by the time this is published, be lovingly tucked away in various vessels. The quality is high; the yields are "average",  and, depending on the varietal, there should be just enough to squeeze out an allocation to all those that desire one. Oh, except for Riesling, which by chance,  as consumer desire for it strengthens, has decided to reduce its fruitfulness this year. Oh, when will you learn, oh noble one.
The message from Kilikanoon to all reading this is a  simple one. Remember the challenges you have faced,  embrace the change that it brings, and steel yourself for the great adventure ahead. We now stride into 2021 a little more sure-footed, confident in the knowledge that our wines tell the most enduring story, and we are merely roadies along for a wild ride.
TOP GIẢI THƯỞNG
Mundus Vini Grand International Wine Award, Best  Producer: Australia 2010, 2017, 2018, 2019 & 2020
"Best Shiraz in the World' "Australian Wine Producer  of the Year"
2018 IWSC 2014 Oracle Shiraz, 2002 and 2005  vintages were also rated 'Best in the World'.
Three times in twelve years. No other Australian wine has such a record of success.
'Australian's Best of Show – White Wine' – 2016  Kilikanoon Mort's Reserve Riesling
2019 Mundus Vini Grand International Wine Awards  'Best Wine of Show'
2019 Decanter World Wine Award's 2014 Attunga  1865 Shiraz
2021 James Halliday FIVE RED STAR winery. Since  2008.
2019 Langton's Classification VII, Oracle Shiraz recognized as "Excellent."
Clare Valley Winery of the Year – 2017 Melbourne  International Wine Competition
2016 Selection Magazine Australian Winery of the  Year
2016 Selection Magazine, Top 5 Winery Worldwide
2014 Clare Valley Winemakers Hall of Fame,  Winemaker of the Year, Kevin Mitchell
2013 James Halliday Wine Companion, AU, Winery  of the Year
James Halliday
No other winery can claim being awarded Australia's best winery six times in nine years from three different independent sources. No other winery has received best in the World or Australia for Shiraz,  Cabernet, GSM, and Riesling.
By signing up to our monthly mailing list you are welcoming the latest news, wines and savings directly into your inbox.