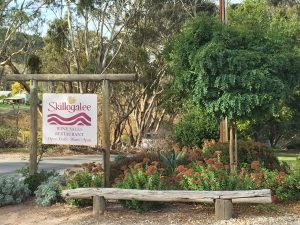 What's the best time to drink bubbles if not at the end of the year? Why, then, resort to champagne or red wines when there are so many pleasure-including Pétillant white wines that fit the season beautifully?
White wines can evoke the same comforts as the most opulent reds, and can match surprisingly well with the heartier fare of Christmas and New Year's Eve. They show very few flaws, and they're only easy, approachable, and refreshing, but they share a sort of joyousness, a lack of pretension, and are intended to be enjoyed with relish rather than sipped with contemplation.
The Skillogalee Sparkling Riesling NV is priced moderately as well, so feel free to experiment with it. You can only find it in Saigon at Rada Vietnam Wines and Spirits.
Skillogalee is making some fantastic wines out of the Clare Valley in Australia, renowned for its fine Riesling. Varietals range from Riesling to Shiraz to Liqueur Muscat. Handcrafted boutique wines by father and son, this winery was established in the early 1970s and their first wines was released in 1976. After only 2 years, their Riesling won some major awards, putting them on the map. Planted on stony soils with eastern-facing slopes, the grapes that Skillogalee produce are hand-tended to and hand-picked. Yields are low, and small batches of taken-care-of-wine are what you will taste in every bottle.
For more on the history and what "Skillogalee" actually means, click
HERE
By: Bliss Saigon
By signing up to our monthly mailing list you are welcoming the latest news, wines and savings directly into your inbox.