Hewitson Ned & Henry's Shiraz
Liên hệ trực tiếp để biết giá
Quả mọng đỏ. Chất tannin mềm mịn như nhung. Độ chua tươi trên bề mặt
Chia sẻ với bạn bè và gia đình
Mô tả
                                                                                     (Source: Dean Hewitson Youtube)
CẢM QUAN
CẢM QUAN
Màu sắc:   Đỏ thẫm pha chút tím.
Khứu giác: Quả dâu rừng đỏ và đen. Gia vị và phong phú gỗ sồi Pháp
Khẩu vị: Quả mọng đỏ. Chất tannin mềm mịn như nhung. Độ chua tươi trên bề mặt
PHÂN TÍCH
pH 3.70
Độ cồn 14.0%
Axit 6.0 g/L
Đường 0.2 g/L
QUÁ TRÌNH Ủ RƯỢU
16 tháng trong thùng gỗ sồi được ướp của Pháp
VƯỜN NHO 
Steingarten Road Vineyard
MỰC NƯỚC BIỂN 
280m
ĐẤT 
Một loại đất là sắt cổ bị oxy hóa (terra rosa) trên đá vôi
TUỔI CỦA GIỐNG NHO  
30 năm
HỆ THỐNG CÂY TRỒNG 
Làm giàn, dây tán, hàng hướng bắc, sườn hướng bắc lý tưởng ở Nam bán cầu
MẬT ĐỘ CÂY TRỒNG 
2,400 /Ha
ĐẤT TRỒNG TRỌT 
Tưới nhỏ giọt tối thiểu, trồng cỏ lúa mạch đen giữa các hàng, cắt tỉa bằng tay
NĂNG SUẤT  
6.0 tấn/ Ha; 45 HL/Ha
QUÁ TRÌNH LÊN MEN 
Kết hợp toàn bộ quả mọng và nghiền nát; ngâm lạnh; hai đến ba tuần
ĐÁNH GIÁ TỪ CHUYÊN GIA
2021 Ned & Henry's Shiraz
92 points – Stuart Knox, TheRealReview.com – June 2023 
Medium to intense ruby red colour. Mulberry and violet aromatics. Ample weight with plush purple fruits, dried herbs and a floral note that brings further appeal. tannins remain in the background, but they have enough intensity to ensure the finish is still dry. Very appealing wine.
93 points – Dave Brookes, WineCompanion.com.au – June 2023 
A wonderfully fragrant and juicy shiraz from Dean Hewitson. Packed with super-ripe plum and dark cherry fruits with hints of exotic spice, violets, jasmine, licorice, dark chocolate and earth. There's a nice sense of fruit purity and detail on the palate, tannins all powdery and sexy, the cadence crisp and clear and a sense of harmony on a finish that shows some nice sustain for the price.
2021 The Mad Hatter Shiraz
95 points – Stuart Knox, TheRealReview.com – June 2023  
Opaque core into a deep ruby and purple rim. Blood plum, liquorice and violet aromas leap from the glass. Lovely full weight and density as it glides across the tongue. Dark fruits, anise spice and graphite undertones all meld well to ensure character and interest. Tannins are supple yet amply powerful for the job at hand, driving it long and lingering to the finish. A lovely balance of Barossa intensity with winemaking vitality.
94 points – Dave Brookes, WineCompanion.com.au – May 2023
Deep crimson in the glass with classic aromas of satsuma plum and summer berry fruits layered with baking spices, licorice and dark chocolate. Nary a hair out of place on the palate with impressive fruit purity and a harmonious, dark savoury flow to the wines form; powdery tannin in support with a minerally driveline.
2020 Monopole Mother Vine Shiraz
95 points – Stuart Knox, TheRealReview.com – June 2023  
Deep and dense ruby from core to rim. Rich and intense nose of mulberry, violets, and black olive tapenade. Palate brings a huge intensity of fruit yet with a deft touch that brings life and vibrancy as well. Roses, plums, nori, and black olive all meld across the palate ensuring there's multiple facets that capture your attention whilst fine sandy tannins bring drive, focus and a great deal of length. Many years ahead of it.
2019 Barrel 1853
96 points – Dave Brookes, WineCompanion.com.au – June 2023 
An equal split of the best barrel of Hewitson's Monopole shiraz and the Old Garden mourvèdre. Aged for 24 months in a mix of new and seasoned French oak barrels. What a beautiful smelling wine. The aromatic composition is on song, both rich and pure with deep plum a macerated black fruits with exotically spiced nuance. It's earthy and multi-layered with a gorgeous fruit flow and presence and trademark savouriness. Tannins, fine and powdery, resolve nicely into the wine as the fruit slowly sails off into the distance.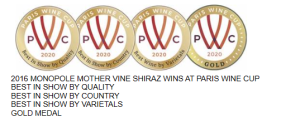 Thông tin bổ sung
| | |
| --- | --- |
| Thương hiệu | |
| Dung tích chai | 750ml |
| Niên vụ | 2020 |
Tham quan Vườn Nho
Hãy tham gia vào hành trình tham quan với Nhà máy rượu vang Avada để thấy các loại rượu yêu thích của bạn được sản xuất như thế nào, bắt đầu từ hạt giống, đến rượu vang ra đời cho tới lúc lên bàn ăn. Xuyên suốt quá trình này là sự dung dưỡng những hương vị, độ đậm đà và phong cách.