Winemaker and proprietor Kevin Mitchell purchased the property of the same name in the hamlet of Penwortham in South Australia's picturesque Clare Valley. Hailing from a long line of wine grape growers, Kevin now had the opportunity to turn the vision of creating his own wine brand into a reality.
Kevin's father Mort Mitchell has been a defining influence, planting and tending to Kilikanoon's Golden Hillside suite of vineyards including the famed Mort's Block, for over 40 years. Kevin's fascination with terroir is a result of years spent playing and eventually working in these vineyards alongside his father. The first Kilikanoon branded wines from the 1997 vintage were four single vineyard wines, each from Kevin and Mort's vineyards. These were the 'Oracle' Shiraz, 'Prodigal' Grenache, 'Blocks Road' Cabernet and 'Mort's Block' Watervale Riesling.
OUR PHILOSOPHY
The powerful elegance of Kilikanoon Wines is the ultimate expression of Clare Valley terroir. A symphony of diverse and unique microclimates, masterfully composed, to deliver impeccable quality and style for each marque. Meticulous site selection and diverse terroir enable us to deliver impeccable quality year-on-year through masterful composition.
Kilikanoon owes its philosophy to founder Kevin Mitchell and his father Mort and their fascination with terroir. This philosophy has become enshrined in the way our winemaking team crafts vibrant wines with distinct regional and varietal definition.
OUR GEOGRAPHY
One of the premium wine grape growing regions of the world, the Clare Valley has three parallel valleys, each with a unique expression of distinctive terroir, varying in altitute, rainfall and soil sub structure.
Despite covering a relatively small area, the numerous sub-regions of the valley exhibit individual microclimates that particularly favour Riesling, Shiraz, Cabernet and Grenache, while altitude variation from 300m to 600m results in vastly different terroir.
Our terroir is of great importance; the synergy of place, soil, climate and people – the elements which ensure each vineyard's unique qualities. Kilikanoon's vineyards have been carefully selected to enable a range of wines which express the individuality of their respective regions. At the southern end of Leasingham lies the Golden Hillside, the heart of Kilikanoon's Estate vineyards that comprise Mort's Block, Covenant, Walton's and Attunga, while adjacent to the original Kilikanoon cottage, now its cellar door, is the Tregea vineyard in the cooler and rugged Skilly Valley.
Additionally, soils vary through the valley, from red brown 'terra rossa' over limestone, through to black alluvial soils in low-lying areas.
The diurnal temperature variation, hot days and cool nights, in Clare Valley is key to creating powerful and elegant wines, beautifully balanced with ripe fruit, natural acidity, tannin and oak.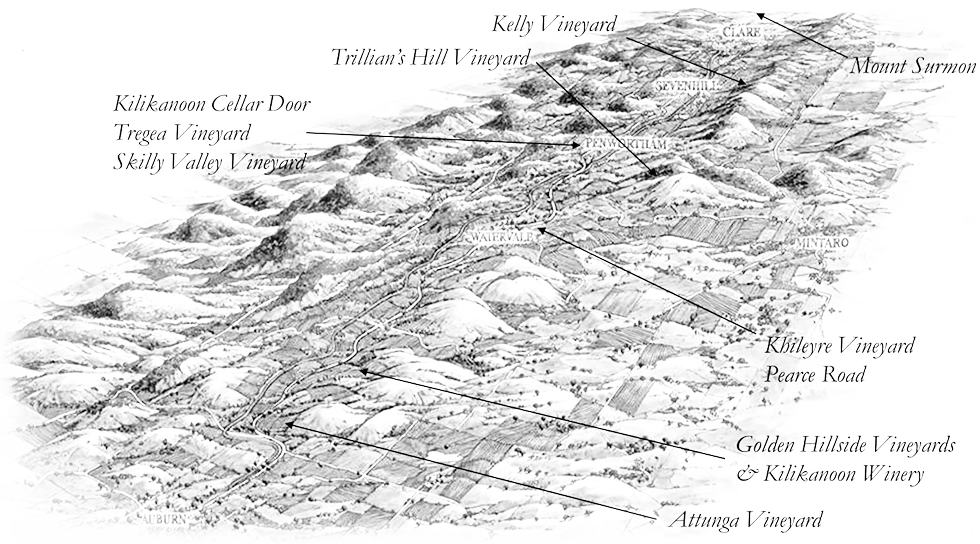 Images
Founded
Winemaker
Regions
Varietals