Kilikanoon Killerman's Run Grenache Shiraz Mataro (GSM)
Gold Medal – 2018 IWSC. Winemaker Kevin Mitchell has set a new benchmark for Clare Valley Shiraz. A nose of stewed plum and spice followed by generosity on the palate, all at a price that delivers great value for money.
Share Our Wines With Your Friends & Family
Description
TASTING NOTES
Colour: Brick red in colour with youthful crimson hues.
Aroma: Elevated and brimming full of dark fruits, kitchen spices, savoury meats, dusty oak and just a hint of tarriness.
Palate: Moulded in the style of the great Rhône blends of southern France, the palate has been carefully blended to create a wine of tremendous balance, poise and symmetry, the Grenache and Shiraz in perfect sync on the front and centre of the palate, both complementing the savoury nuances and structure delivered by the Mataro on the finish.
ANALYSIS
Alcohol: 14.5% v/v
CELLARING
Potential of at least 8 – 10 years.
PLACE
Clare Valley.
The Killerman's Run Collection is masterfully composed from Kilikanoon's diverse vineyard sites and sub-regions, delivering an elegant and approachable style.
STORY
Mr Killerman, as a young Mort Mitchell called him, lived alone in a humble tin shed in the hills behind the Kilikanoon Cellar Door. Entirely self-sufficient, he grew his own fruit and vegetables and roamed the valley for his meals with rabbits being his favourite gourmet treat.
Mort grew to know and respect this man of the bush, learning the secrets of the land and how to become one with the environment. The Killerman's Run range of approachable wines showcases the distinguished and varied terroir of the Clare Valley and the Kilikanoon philosophy of uncompromised quality and consistency.
WINEMAKING
Made in a true Rhône Valley style, all of the components were vinified and matured individually in a range of seasoned French oak hogsheads for 16 months before final assemblage and bottling unfined and unfiltered to further complement the wines appeal.
Awarded at the International Wine & Spirit Competition 2018.
(Image: Kilikanoon.com.au)
GOLD MEDAL (2016 Vintage) – AWARDED AT MUNDUS VINI 2017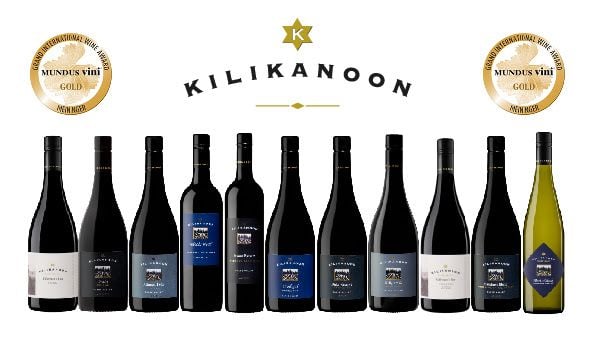 (Image: Kilikanoon.com.au)
Kilikanoon is proud to announce our overwhelming success at the Mundus Vini Grand International Wine Awards by taking home 11 Gold Medals, and the coveted status of Australian Winery of the Year for the third time in 8 years (also won in 2010 and 2017).
The jury was made up of well respected and reputable personalities from around the world including excellent sommeliers, recognized specialty retailers with above-average knowledge of wine, specialist journalists and scientists.
Gold medals are only awarded to the best rated wines within a group, which means Kilikanoon consistently impressed the tasting panels with masterfully composed cuvees. Being awarded Australian Winery of the Year once again highlights Kilikanoon's dedication and uncompromising commitment to quality and style that has made the brand so successful.
A full list of our Gold Medal winning wines is below:
Shiraz
Cabernet Sauvignon
⍟ 2015 Blocks Road Cabernet Sauvignon
⍟ 2013 Tregea Reserve Cabernet Sauvignon
Grenache
⍟ 2014 Prodigal Grenache
⍟ 2013 Duke Reserve Grenache
⍟ 2013 Kelly Grenache
Grenache Shiraz Mataro
⍟ 2016

Killerman's Run GSM

⍟ 2013 Baudinet Blend GSM
Riesling
⍟ 2016 Mort's Block Watervale Riesling
To learn more about Kilikanoon's specific awards, please click here Kilikanoon Awards
Additional information
| | |
| --- | --- |
| Brand | |
| Bottle Volume | 750ml |
| Vintage | 2020 |