Queen Adelaide Moscato, 750ML
Queen Adelaide has been a trusted brand in Australia since 1963. The fresh young face of a distinguished heritage, Adelaide truly is a new Queen for a new era. In 1836, the first settlers arrived in South Australia and the new Governor, Captain John Hindmarsh requested permission to name the new city after King William IV of England. The King suggested it be named 'Adelaide' after his Queen, and the main street was given the name of King William.
Share Our Wines With Your Friends & Family
Description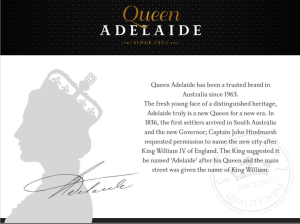 Moscato refers to the muscat family of grapes and is a lightly sparkling,
lower alcohol sweet, lighter bodied white wine. Enjoy the sweetness of
Queen Adelaide Moscato, with a gentle spritz and flavours of a fruity
finish, this wine is beautifully paired with spicy food such as curries of
cuisines with bold flavours. Because of it's sweetness, you can also
enjoy the Queen Adelaide Moscato as an aperitif. Best served chilled.
Vintage
NV
Aroma
The bouquet displays vibrant floral and rose water flavors.
Flavor
Juicy and luscious.
Region
South Eastern Australia
Alcohol: 8.4%